Prior authorization and pre-approval has been a pain for providers for nearly 40 years. While, in theory, it ensures that patients do not pay out of pocket for healthcare and that providers are paid in full for the care they offer, the process is bogged down with bureaucracy and it can take significant time to get the authorization or approval. A 2013 study showed that the average annual cost for a full-time physician to do prior authorizations was around $3,000. The researchers decided that "preauthorization is a measurable burden on physician and staff time."
Since 2013, EHR use has become much more common, but the fact remains: even electronic prior authorizations can cost valuable time and/or money for practices. Flash forward to 2017, today  we are hearing that "patient care is [being] disrupted by the bureaucracy of prior authorization."
In an interview with Leadership +, Jeffrey Hankoff, Medical Officer at Cigna, puts it well: "The major reason that we see services being denied before ultimately being approved is that we don't have the information we need for approval by the time we have to make the initial decision. Likewise, the major reason that a denial ends up being reversed on appeal is that the information we require becomes available. We're ultimately dependent upon providers pushing data to us."
With an EHRs much of this administrative burden can be (and should be) alleviated. Providers, nurses and office staff alike can streamline certain parts of the prior authorization or pre-approval process to ensure that the required information gets to the insurance organization – maximizing the usefulness of the electronic prior authorization systems they are already using.
PUSHING DATA TO THE PAYER
In theory, an EHR's prior authorization module should allow a provider or their team to gather and send all of the relevant data to the insurance company in order to gain authorization, not only for medication but also for procedures. The system could prompt staff to send certain information based on the insurance selected, ensuring that there are few authorizations denied or delayed due to missing information. Hankoff addressed the issue in his interview… EHRs could (and arguably should) be able to send an electronic prior authorizations with all relevant data to the payer. In order to reach this point, we would need greater interoperability in our industry.
TRACKING AUTHORIZATIONS
Within blueEHR's prior authorization module, a provider or their team can select a patient's insurance, entering the authorization number, valid dates and number of procedures. From this screen, the provider can easily see how many authorizations remain. If the provider chooses, they can set a warning date so that when an authorization expiration date approaches, the system automatically alerts the user to check with the patient's insurance to ensure there are authorizations remaining for care.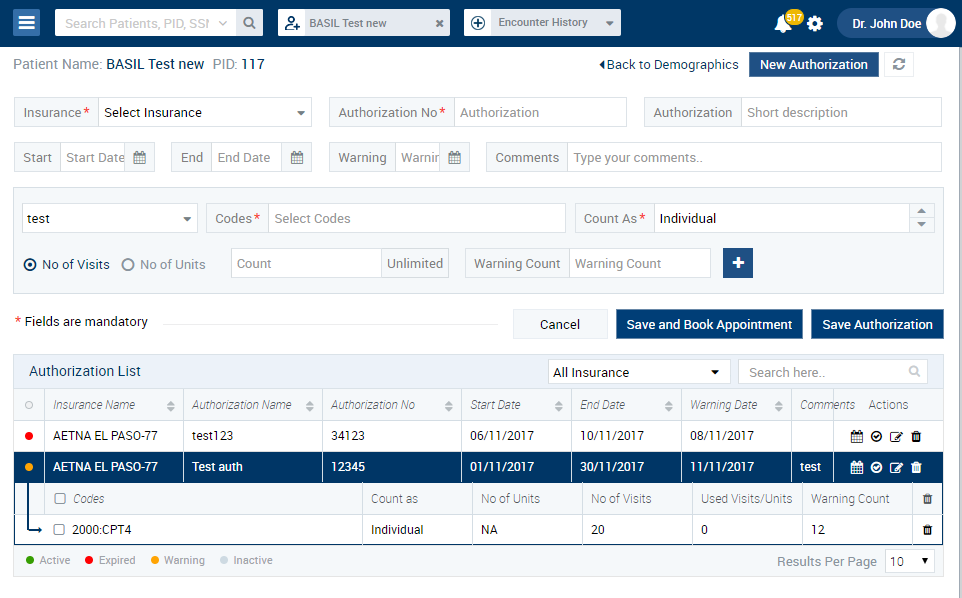 These authorizations can be seen and easily accessed from a number of places in the EHR. From patient's profile a provider can see a number of key prior authorization details, such as how many authorizations were allowed and how many have been used. They also have access to the information through the calendar or an individual encounter.
If a provider creates an encounter for a patient with prior authorizations, they are automatically linked so when the CPT code is added, the system automatically tracks the count for that procedure.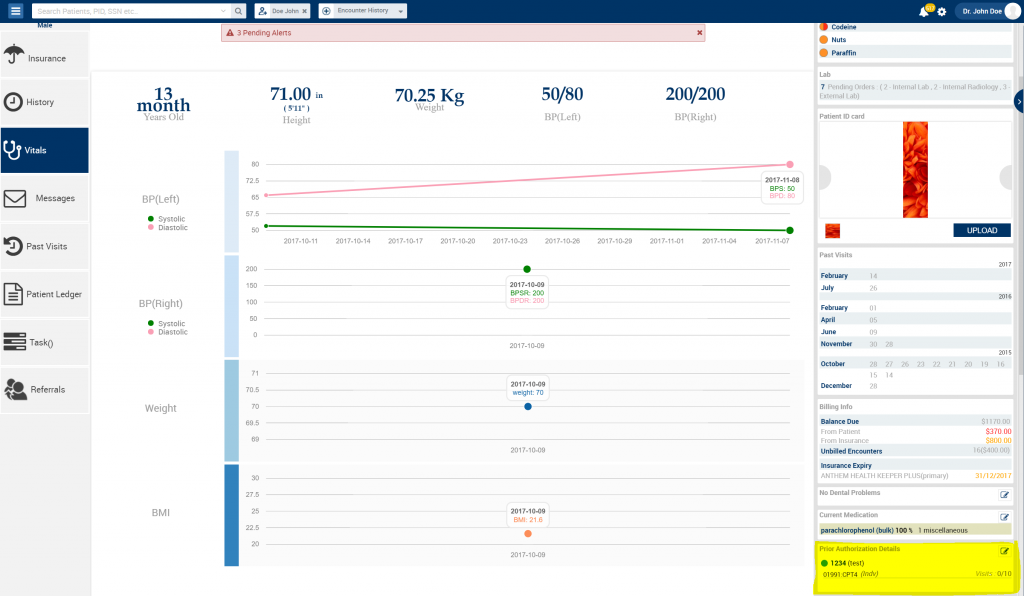 BILLING
When claim goes for billing, the EHR system can make things easier for the billing team by automatically including the prior authorization code in the claim. Within the EHR, this view easily shows the biller that the prior authorization was received for the procedure and that the encounter can be easily attached to claim.
blueEHR's prior authorization capability allows the provider and their team unique, expanded access to the information through both the calendar and individual encounter, and automatically includes the relevant codes for billing.
As Hankoff mentioned, "there are lots of opportunities to get more out of these systems, and I hope in the future we can better collaborate with our payer partners to move the process forward…To be truly beneficial, preauthorization solutions are going to have to be flexible and meet the various needs of providers."
A well-designed EHR can reduce the bureaucratic bottlenecks we so often find in the industry. Insurance verification and insurance authorization services are crucial for revenue cycle management and most claim denials happen when a patient is ineligible for services billed by the provider. Providers should utilize a system that helps reduce these denials.
If we lived in an ideal world, electronic health systems would be fully interoperable and EHRs would be able to fulfill many provider needs. An eHealth solution should be able to push the relevant data to insurance companies and then track those authorizations. Providers and their teams should be able to easily bill for those authorizations – and all of these activities could (and arguably, should) be able to happen within the EHR itself.